If there was a list of stock apps users rarely used in Windows 11, the Cortana app would have easily been near the top spot. Thankfully, Microsoft is addressing that by killing off the standalone Cortana app in Windows 11.
Microsoft had confirmed that Cortana would cease to exist as a standalone app in Windows 11 later this year. Now, two months later, Microsoft is deprecating the Cortana app through an update in Microsoft Store. However, only Windows Insiders running in the Dev and Canary channels are getting the update for now. Still, Cortana will likely stop working on other Insider Channels in the coming days, and eventually, it will stop working for everyone later this month. It's unclear if the app will still be included in the upcoming Windows 11 23H2 update, likely to come out in September or October this year.
Upon opening the app after completing the update, users are greeted with a welcome message that says, "Cortana in Windows as a standalone app is deprecated." There is a Learn More button right below the message, clicking on which will take you to the Microsoft support page that describes how this change will impact users.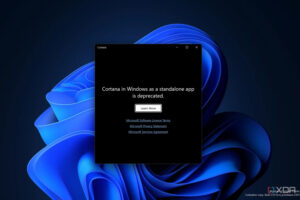 As explained by Microsoft, the change only impacts Cortana on Windows. Cortana on Outlook mobile, Teams mobile, Microsoft Teams display, and Microsoft Teams Rooms will continue to exist until, of course, Microsoft decides to kill those versions, too.
Microsoft already has Windows Copilot set to replace Cortana and become the centralized AI assistance platform for Windows 11, though the company had initially denied that Copilot would replace Cortana when it launched the Bing Chat-powered Copilot for the OS. While Windows Copilot is still not as good as you'd want it to be, it's far better than what Cortana could do.
Microsoft's Cortana made a grand entrance in Windows Phone 8.1 in 2014, but even with the company pushing it almost everywhere, it failed to compete with rival digital assistants like Siri, Amazon Alexa, and Google Assistant. It didn't taste much success in desktops, either. With the announcement of Windows 11 in 2021, Microsoft revealed that Cortana would no longer be included in the Windows 11 boot experience and wouldn't be pinned to the taskbar. It took the company a couple of years more to finally start killing the Cortana app in Windows 11 for good.
Source: Microsoft begins killing off Cortana in Windows 11 (xda-developers.com)
Armco IT: IT Support and Managed Services for Businesses Across York, North and East Yorkshire
There's nothing we love more than seeing Yorkshire businesses flourish by harnessing the power of IT.  Our team of dedicated engineers stands ready to help you overcome any technical challenge and deliver tailored solutions that help your business meet its goals and growth ambitions. From our base in Malton, we deliver proactive IT support and services across York, North and East Yorkshire.  We have a strong track record in delivering impactful IT to clients across a wide range of sectors, including manufacturing, design and insurance, among many others. We focus on maintaining, optimising and securing your digital estate, so you can focus on the growth and success of your business. Contact our team and let us start our journey together today.